You probably do not give a lot of thought to your commercial doors. However, your commercial doors have an important job to do. From enhancing the look and aesthetic of your business, to keeping your building safe and secure, your commercial doors matter!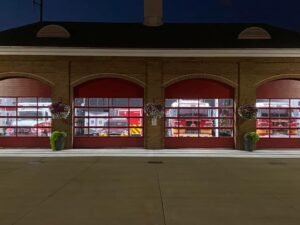 Whether you are a hospital, office, warehouse, or small mom & pop shop, we have the commercial door solutions that are right for your business. Amongst our most popular commercial door technologies for your business include:
Rolling Doors – Rolling service doors, also known as upward acting coiling doors, are ideal for commercial and industrial businesses. Characterized by steel slats that connect to create a curtain, rolling doors provide optimal security and function.
Fire Doors – Are your rolling doors fire rated? Are they required to be fire rated? Fire doors provide protection against the spread of fire in your facility. They also provide safe access for your employees to escape should a fire emergency happen
Sectional Doors – Sectional overhead doors are available in insulated and non-insulated designs. Sectional doors can be an economical means by which to secure an opening. They can be motorized or manual operation.
High Performance Doors – If you have a high usage application or the need for a high- speed door, then a high-performance door is the perfect solution. We can provide doors that are designed for over 1,000,000 cycles and or can travel at speeds up to 60 inches per second.
Vehicular Gates – Do you have a large area that needs to be secured? If so, then vehicular gates are the right choice for you. Available in an endless range of styles and materials, vehicular gates can be customized to fit your style and security needs.
At J&L Door Service, Inc. we proudly provide businesses with commercial doors in Mentor, OH, Cleveland, Painesville, Solon, OH, Streetsboro, Chesterland, and throughout Northeast Ohio. Providing commercial door solutions dating back to 1978, we have over four decades of experience offering high-performance door solutions that keep your business safe. In addition to providing your business with the most innovative commercial door technologies, we are dedicated to providing you with unmatched customer service before, during, and after projects.
From rolling doors, sectional doors, fire doors, and more, we have the solutions your business needs at the rates you deserve. Contact us today to learn more about our commercial doors for your Northeast Ohio business!