Are you doing everything you can to keep your business safe? What about the safety of your employees and customers? Fire doors are an integral part of your facility's Life Safety Plan.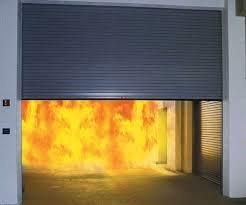 The most obvious and notable benefit of fire doors is fire protection. Our fire doors are fabricated from steel/stainless steel that compartmentalize fires and prevent spread to other areas. Activation and safe closing of fire doors can be achieved through connection to your building's alarm system and or smoke detection system.
In addition to stop the spread of a fire, fire doors can protect the evacuation route of your employees and customers, allowing them a protected escape route in the event of a fire.
Rolling fire doors not only act as a fire barrier, but are important for keeping smoke out of your office/warehouse/store in the event of a fire. Smoke protection is just as important as fire protection, as smoke can cause several long-term health symptoms and, in some cases, lead to fatality.
At J&L Door Service, Inc. we're here to meet your commercial door needs and exceed your expectations with innovative fire doors for Cleveland, Streetsboro, Painesville, Mentor, OH, Solon, OH, Chesterland, and throughout Northeast Ohio. As Certified Rolling Steel Fire Door Technicians by IDEA, we ensure that your fire doors are up to National Fire Protection Association standards. Already have fire doors in your facility, did you know they are required to be tested on an annual basis. Ask us about Fire Door Testing Programs for your facility.
With over 40 years of experience serving Northeast Ohio, we've gained a reputation for our unparalleled customer service and unmatched door technology. Get in touch with us today to chat with our technicians about fire doors!