In the realm of business, security is paramount. Companies implement a range of protocols to safeguard their assets, and one essential component of this security apparatus is commercial garage doors.
Commercial garage doors are indispensable for maintaining a secure and efficient business environment.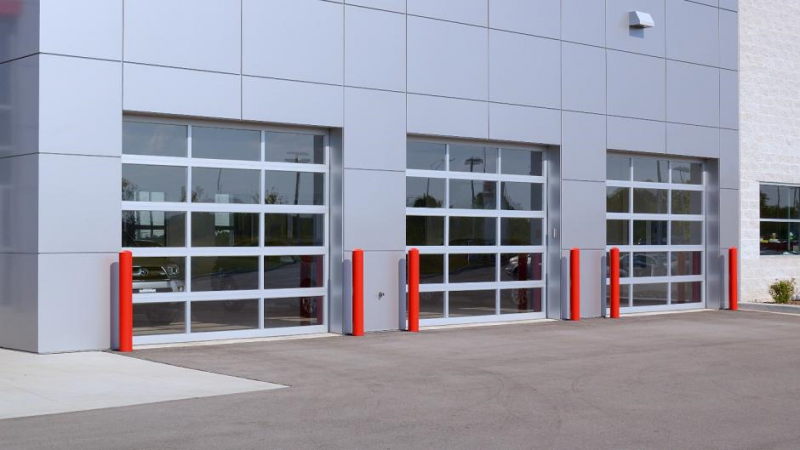 Before delving into the differences between these commercial doors and residential doors, it is important to note that there are various types of commercial garage doors to cater to different business needs. These include:
Rolling Steel Doors
Sectional Doors.
High-Speed Doors
Fire-Rated Doors
But what makes these doors different from their residential garage door counterparts? Keep reading to find out.
Size & Scale – Commercial garage doors are significantly larger and more robust than residential ones. They are built to accommodate the needs of large vehicles, heavy equipment, and high traffic, making them capable of withstanding substantial wear and tear.
Material Strength – Commercial doors are crafted with stronger materials, such as steel, aluminum, or insulated panels. This enhanced durability ensures that they can endure the demands of a busy commercial environment.
Security Features – Business assets require higher levels of security. Commercial garage doors come equipped with advanced locking mechanisms and additional security features, making them more tamper-resistant than residential doors.
Insulation & Energy Efficiency – Commercial garage doors often provide superior insulation, helping businesses maintain consistent indoor temperatures and reduce energy costs, which is crucial for climate-controlled environments.
At J & L Door Service, Inc., we take immense pride in being the top-tier option for commercial garage doors in Mentor, OH, Streetsboro, Painesville, Cleveland, Solon, OH, Chesterland, and throughout Northeast Ohio. Our commitment to excellence extends to a diverse clientele of businesses, where we provide tailored commercial garage door solutions.
We understand that security, efficiency, and peace of mind are paramount for your business, and we are dedicated to delivering the highest quality door services to meet those needs. Contact us today to learn more about commercial garage doors for Mentor, OH, Streetsboro, Painesville, Cleveland, Solon, OH, Chesterland, and throughout Northeast Ohio.