Commercial Garage Doors, Fire Doors, Roll up Doors, Gate Operators, and Commercial Doors in Cleveland, OH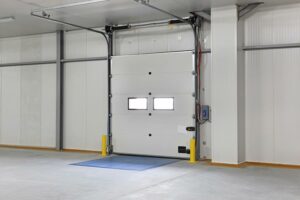 From steel rollup doors, to gate operators, to commercial garage doors, J&L Door Service is your full-service commercial door provider and installer in Cleveland. Security gates are becoming more common, both for commercial and industrial settings, as well as residential. Having a solid gate operator to open and close that gate is very helpful in maintaining security and privacy. Commercial rollup doors are great space savers as they simply roll up into a box above the opening, which leaves a lot of ceiling space open for lighting or other needs. Commercial garage doors, great for a variety of applications including ambulance and fire department doors, are designed to be used many, many times without any issues.
Sectional Overhead Doors in Cleveland, OH
While you might think that sectional doors are the same as your home garage door, they are definitely designed and built for a commercial setting. Both insulated and non-insulated sectional doors are available, and the panels can come in sizes up to 40 feet wide. Depending on the frequency of use and size of the sectional overhead door, these factors will help determine what kind of opener might be paired with the door. Options include a chain hoist for manual operation, trolley motor operation, push up, or jackshaft operations.
Fire Doors and High-Performance Doors in Cleveland, OH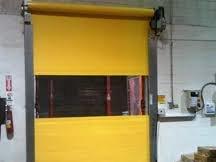 High-performance overhead doors are an option that some commercial and industrial organizations are opting to install in their buildings. These doors operate at a much faster rate than normal commercial overhead doors, moving up to five feet per second both up and down. These high-performance doors are meant to be used frequently without any issues, between half a million cycles up to a million cycles, and part of this is because they have fewer moving parts than other overhead doors. Another option that these same organizations could consider are fire doors, which help to prevent the spread of fire and smoke in the Cleveland building that you work in. J&L Door Service can provide you with the details of these commercial overhead doors and provide the installation team.
Cleveland, Ohio
Cleveland was established on July 22, 1796, by surveyors of the Connecticut Land Company when they laid out Connecticut's Western Reserve into townships and a capital city. The first permanent European settler in Cleaveland was Lorenzo Carter, who built a cabin on the banks of the Cuyahoga River. The Village of Cleveland was incorporated on December 23, 1814. In spite of the nearby swampy lowlands and harsh winters, the town's waterfront location proved to be an advantage, giving it access to the Great Lakes trade.