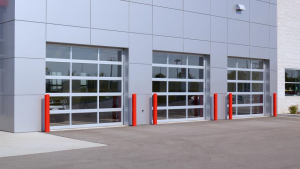 Upward acting sectional doors are very similar to the garage door on your house. The difference being, they are built for commercial and industrial applications. They also come in a wider variety of sizes including doors as wide as 30 to 40 feet depending on the manufacturer.
These doors are available in non-insulated and insulated sections. The sections are available in a variety of widths depending on the application. The sections travel in 2 inch or 3 inch track using rollers attached to the sections. The size of the track is determined by the application for the door.
Upward acting sectional doors can be push up, chain hoist, trolley motor operators or side mounted jackshaft operators. Frequency of usage and door size is a determining factor in selecting a means of operation.
Insulated sections can be filled with laid-in-place polystyrene or foam-in-place polyurethane insulation. R-Values can be in the 20's depending on section thickness and the type of insulation used.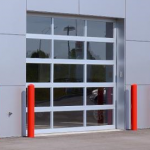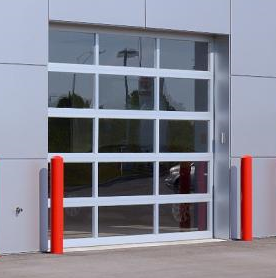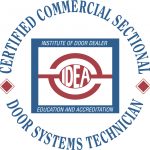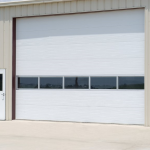 Commercial Overhead Doors and Sectional Overhead Door
Automotive repair shops, grocery stores, apartment parking garages, fire departments, and so many more businesses and organizations use commercial overhead doors on a daily basis. It doesn't matter if you are in Cleveland, Mentor, Painesville, Streetsboro, Chesterland, Solon, or the surrounding areas, there are many reasons to have an overhead door or sectional door, and you want it installed properly. You need an experienced commercial overhead door installation team, and J&L Door Service has been doing so for decades. Give them a call to find out what they can do for your needs: (440) 729-4261.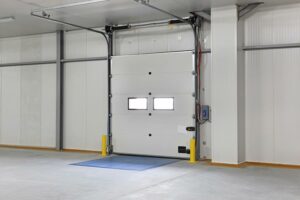 Sectional Overhead Door
When you think of a sectional overhead door, you are most likely thinking of the garage door that is on your garage at home. And while this is a good place to start, there are important differences between the sectional garage door on your garage at home and the commercial sectional overhead doors that J&L Door Service installs. First, commercial sectional doors can come in custom widths, including widths up to 40 feet. Some sectional doors can also be insulated to help keep the indoor environment how you want it. Sectional doors can feature some windows to let in some light, or you could have an entirely clear sectional door, which some restaurants and bars do for natural light.
Commercial Overhead Doors
Commercial overhead doors not only include the sectional overhead door that was just discussed, but also other options for different applications. For example, high-performance doors which operate at much higher speeds than other commercial overhead doors, are preferred options for warehouses that want to maintain areas at a certain temperature, but also need to have the ability to transport merchandise from that area to other areas or for loading. These high-performance doors provide a way to accomplish this.
Another option is overhead doors that are fire doors. These overhead doors are variants of the steel rolling door that rolls up into a small box above the opening, but they are designed to help slow the spread of a fire in your building. They can also be used normally if needed or desired. Whatever your commercial space is like or the kind of business you have in Cleveland, Mentor, Painesville, Streetsboro, Chesterland, Solon, or the surrounding areas, J&L Door Service has a number of commercial overhead door options that will match your needs.