Gate Operators in Chesterland, Painesville, Cleveland, Mentor, Streetsboro, Solon, OH, and Surrounding Areas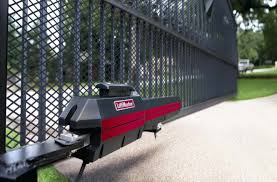 At J & L Door Service, Inc. we are not just about doors, we also offer a complete line of gate operators. When added security is needed or the need to control access into your facility, security gates with gate operators are an excellent option.  Gate operators add valuable safety features to your gate.
Does this describe you? One of the things that you like about your property is the fact that you have a fence around that property, and that you have a gate at the main entrance to help keep people out when needed. What you don't like is that you need to get out of your vehicle every time that you want to enter or leave your Streetsboro, Chesterland, Cleveland, Solon, Painesville, Mentor, or surrounding area property. What you really need is a proper gate operator that will allow you to remain in your vehicle. J&L Door Service has years of experience in installing a variety of gate operators and they have the right options for your property and gate needs.
Electric Gate Operators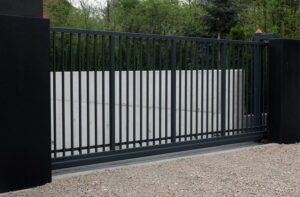 When you are having your electric gate operator installed, you have a couple of options for getting power to the gate operator. You may end up connecting your gate operator to your main electrical supply for your business. This is very common and makes a lot of sense, but sometimes the closest source of power is cost-prohibitive to use. If you have a long driveway or parking lot to get into your facility, you may not have a nearby source of power. In these cases, you should look at a solar setup that will provide you with the power you need, where you need it. Whether you need a sliding gate operator or a swing gate operator, J&L Door Service can help to provide you with all the information you need and can install your electric gate operator so that it provides you with years of trouble-free usage.
Gate Openers and Operators for Sliding and Swinging Gates
When it comes to gate operators, there are two options that are available for your gate. The slide operator is the way to go when you have space off to one side or the other for your gate to move into when it is open. Alternatively, you can have a swing gate operator that sweeps your gate open, or in some cases, you may have split your gate into two halves and you have one or both halves open. In either case, when you or anyone else is leaving your Streetsboro, Chesterland, Cleveland, Solon, Painesville, Mentor, or surrounding area property, there can be a mechanism for the gate to open automatically when you get to a certain point in front of the gate. Contact J&L Door Service today to have your gate operator properly installed.