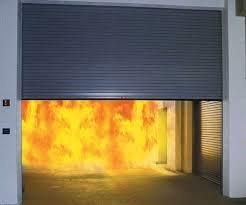 If a building has a sprinkler system why do I need fire doors and why should they be tested? Did you stop wearing seat belts with the advent of airbags? No, because redundancy is a positive feature when life safety is involved. A balanced fire protection design includes the use of passive fire protection (fire doors, fire walls, and fire stop systems) and the use of active fire protection (sprinkler systems).
Both active and passive systems are only effective if they work when needed. Regular testing of your fire protection systems is an integral part of your facility's safety program and the commitment to life safety. The National Fire Protection Association Standard 80 requires annual testing of the fire doors in your facility. Your fire doors should be tested by an Institute of Door Dealer Education and Accreditation (IDEA) certified technician. Certified technicians have been instructed in the proper methods of testing a variety of fire doors and fire door applications.
J & L Door Service, Inc. offers fire door testing performed by IDEA Certified Fire Door Technicians. When it comes to protecting your employees, your facility, and your customers, remember redundancy is a positive feature when it comes to life safety. Call J & L Door Service, Inc. to schedule a no cost evaluation of your fire doors.