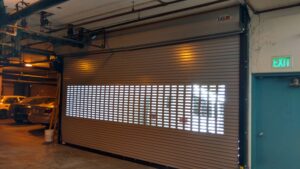 Are you looking for a low-maintenance, but high-security door solution for your business? If so, the roll up door is the right choice for you. Taking up a minimal amount of space, roll up door technology is less vulnerable to excessive repair costs. Lower repair and maintenance costs can save significant money over time. Not convinced that roll up doors are worth it? Here are some other benefits of roll up door technology:
Safety – Roll up doors are a solid, hard-to-break-into solution for businesses/buildings. With their interlocking structure your businesses and contents will be safeguarded with roll up doors.
Space – This unique door technology rolls straight up when opened, saving you much needed space.
Insulation – Certain roll up door models are available with insulation that can save you money on energy costs.
Noise – Is your business on a noisy street? Maybe you're in a loud industrial area? Roll up doors keep external noise out so you can go about your business without the distraction of the outside world.
Elements – Roll up door technology is built to withstand the elements, keeping heavy rains, wind, and other harsh weather conditions out!
At J & L Door Service, Inc. we are proud to provide roll up doors in Cleveland, Streetsboro, Mentor, OH, Solon, OH, Painesville, Chesterland, or the surrounding areas. With unmatched customer service dating back to 1978, we go above and beyond to provide your home and/or businesses with the attractive, functional, and long-lasting solutions that withstand the ages. Whether you're looking to replace your outdated technology or add a rolling door to your facility for the first time, we are here to meet your needs and exceed your expectations with 16 gauge and 24 gauge roll up door options.
Searching for a new commercial roll up door in Cleveland, Streetsboro, Mentor, OH, Solon, OH, Painesville, Chesterland, or the surrounding cities? Contact us today!