You likely do not give a lot of thought to the doors in your business, unless you're experiencing an issue, or your door needs replacement. But did you know that your business' doors make a big impact on the efficiency and safety of your business? Having high speed overhead doors not only is a good idea, but can change how you do business.
Not sure if high speed overhead doors are right for you? Reference this quick guide to learn more.
What are High Speed Doors?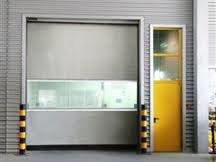 High speed overhead doors are a fast-opening and closing overhead door option that are ideal for industrial use. Traveling up to 48″ to 60″ per second, these doors are a technologically enhanced door system that offer high-efficiency and minimal maintenance. If you're looking for the most effective and advanced door systems on the market, then high speed overhead doors are the right choice for your commercial building!
Benefits of High Speed Overhead Doors
When it comes to high speed overhead doors the benefits are endless. In addition to providing maximum opening and closing speed that is half of the time as traditional commercial doors, high speed doors:
Allow you to control your environment.
Offer maximum security.
Have adjustable speeds.
Provide a modern, sleek, and attractive design.
Who Needs High Speed Business Doors?
While high speed overhead doors are a great addition to any industrial building/business, we believe that these doors are the best choice for:
Parking Structures
Automotive Shops
Technological Factories
Commercial Freezers
Food/Beverage Manufacturing Companies
Warehouses, etc.
At J&L Door Service we proudly provide high speed overhead doors to Cleveland, Streetsboro, Mentor, OH, Solon, OH, Painesville, Chesterland, and throughout Northeast Ohio. Working with you and your budget to help you find the right doors for your business, we go above and beyond to exceed your expectations and provide you with the door technology you need to make business operations easier. Contact us today to learn more about high speed overhead doors for your business!