If your business needs new roll up overhead doors, or you're having roll up overhead doors installed for the first time, you may have some questions. We're here to set the record straight by answering your most frequently asked questions about roll up overhead door technology, which may include:
What materials are roll up overhead doors made out of?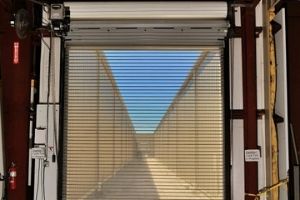 In general, roll up commercial overhead doors are made from galvanized steel curtains, making them a durable and reliable solution for your warehouse/factory/building. Based on application conditions, they can also be fabricated from aluminum and stainless steel.
Are roll up overhead doors actually secure?

In short, yes. Commercial overhead roll up doors are so secure that they are rated as the most difficult doors to gain forced entry by fire departments and police officers.
How long does it take to install roll up garage doors?

Installation depends on the style, size, and conditions of the area. Once the area has been prepped, it should only take a professional technician a few hours to install a commercial overhead roll up garage doors.
Are roll up doors insulated?

Yes, they can be! Roll up commercial overhead doors are an essential for keeping your building well insulated. They are also great for sound management.
At J&L Door Service we offer a range of high-performance doors, including commercial overhead roll up doors, to Solon, OH, Chesterland, Streetsboro, Painesville, Mentor, OH, Cleveland, and throughout Northeast Ohio. Working with your unique needs, desires, and budget, we help you find the right commercial overhead roll up doors to meet your requirements and exceed your expectations. Understanding that your commercial doors are essential to the safety, efficiency, and function of your business, our team of experts lend their professional advice and knowledge to help you find the door solutions that improve your business.
As a high-performance door company with experience dating back to 1978, we've gained a reputation for offering our clients the best doors on the market at the best price. Get in touch with us today to learn more about roll up garage doors for your business!