So, you have a business that requires commercial garage doors. While there are many commercial garage door styles, materials, and brands to choose from, it can be difficult to decide on the right door technology for your business. What do you even need to look for in a commercial garage door?
Believe it or not, you need to do some research on the thermal performance of commercial garage doors before making an investment.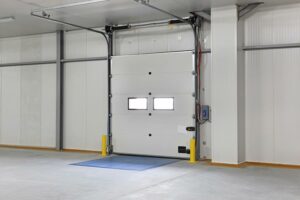 Thermal performance refers to how well your commercial doors will retain heat or cool, which can directly impact your commercial energy bill. Here are some other reasons why thermal performance matters:
Controls Environment – Of course your warehouse is going to get cold in the winter, but you can prevent freezing weather conditions with a well-insulated commercial garage door. This keeps your warehouse comfortable, which can also boost morale.
Durability – Commercial garage doors are a costly investment; you want to make sure they will last as long as possible. Insulated doors are manufactured from two sheets of steel, held together with commercial grade adhesive and foam insulation. This manufacturing process creates a solid section that is very durable.
Quieter Function – Have you ever noticed that commercial garage doors rattle when they are opened? If you want to prevent this, then a sturdy insulated commercial garage door is the way to go.
At J&L Door Service we have been providing unmatched customer service and door technologies dating back to 1978. Staying current on the latest trends and technologies in commercial doors, we offer the most advanced and secure commercial garage doors to Mentor, OH, Cleveland, Painesville, Solon, OH, Streetsboro, Chesterland, and the surrounding areas. While we are in the business of offering you the best commercial garage doors on the market, our goal is to provide you with personable and responsive service that far exceeds our competitors.
Whether you need your commercial garage doors replaced, or you are having your doors installed for the first time, we are here to meet your needs and exceed your expectations. Get in touch with us today to learn more about what we can do for you!