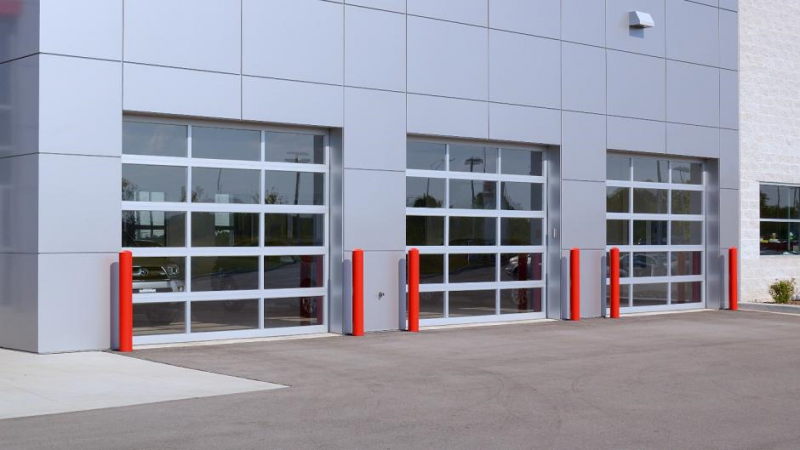 Deciding on the right sectional overhead door is not always easy. Here are some pro tips for selecting the right door that not only meets your needs, but your budgetary requirements as well:
Durability – Durability is one of the first things you need to look for in a sectional overhead door. As a barrier between your business and the outside world, your sectional overhead door needs to be made from high quality materials that not only keep your inventory protected but deter crime altogether.
Size – Before deciding on the right sectional overhead door for your business, you should determine the correct height and width. Depending on the manufacturer, sectional overhead doors may come in sizes of 40 feet wide or more.
Operation – Upward sectional doors can be operated in a variety of ways, including push up doors, chain hoists, mounted jackshaft operators, trolley motors, and more. To determine what type of operation is right for your business, you must consider the frequency of use.
Budget – You must always calculate budget into the equation when you are deciding on the right sectional overhead doors for your business. Consulting a professional before you make your purchase is the best way to ensure that you get the best rate.
At J&L Door Service, Inc. we provide sectional overhead doors in Mentor, OH, Solon, OH, Streetsboro, Chesterland, Cleveland, Painesville, and the surrounding areas. Whether you are choosing sectional overhead doors for the first time, or you are replacing your outdated commercial garage door, our technicians are here to help you get the most from your investment.
In addition to providing your business with sectional overhead door technology, offer regular maintenance and on call 24/7 emergency services to ensure the optimal condition of your sectional overhead doors 365 days per year.
Proudly serving the area since 1978, we are the number one choice for commercial and industrial sectional overhead doors in Chesterland, Cleveland, Painesville, and the surrounding areas. Get in touch with us today to schedule a service!