They are more common than you might think, but they don't always have the automatic openers that you think they may have. We're talking about commercial gates in and around Chesterland, Cleveland, Mentor, Painesville, Solon, Streetsboro, and the surrounding area. If you have a gate on your property without a gate operator, you are missing out on some significant benefits. J&L Door Service can help you install a gate operator and explain the benefits that come along with having a gate operator on your property.
Benefits of a Gate Operator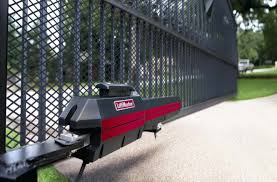 The reason that you have a gate on your property in the first place is to help enhance your security. You don't want just anyone coming onto your property, and having a gate across your driveway or other entrance means keeping people off your property unless or until you decide to let them in. But if you have a manual gate without an operator, it means that you need to be there to let people in or out. Having a gate operator can free you up without compromising the security that you desire.
Having an automatic gate operator means that you can keep your security while not having to worry about giving away multiple keys or codes. You can decide who enters and when. Gate operators can also work with nearly any gate type that you may have, including wooden gates and iron gates. You have a number of options when it comes to operating that gate operator as well, from a mounted keypad near the entrance to a telephone or app. This can mean that you can even be notified of someone at your gate while you are not at home, and decide if you want to let them in or not.
Gate operators are also equipped with battery back-ups so that if you lose power, your gate can still be operated for a period of time until the power is restored. Some can also be powered by solar cells to keep it separate from your normal power supply and always ready to work. No matter if you have a swing gate or a slide gate on your Chesterland, Cleveland, Mentor, Painesville, Solon, Streetsboro, or surrounding area home, J&L Door Service has a number of different gate operators that will help keep your security intact while offering a number of options to allow you to operate your security gate from your home, your car, even from another state.