Companies who want to protect their businesses from fire should consider having fire doors installed. Fire doors compartmentalize zones of a building, offering protection from fire spreading throughout your business. Once a fire has begun in your building, your fire doors should close when activated by a fusible link, a smoke detector activating or the building alarm system activating. If smoke seals are added to the fire doors, it will prevent smoke from penetrating through. These steel or stainless steel doors can have a variety of finishes, to go with the design of your building, in Chesterland, Cleveland, Mentor, OH, Painesville, Solon, OH, and Streetsboro.
Testing Fire Doors for Safety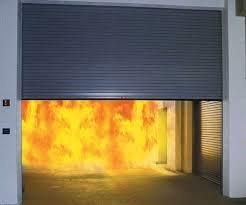 It is important to have fire doors in Chesterland, Cleveland, Mentor, OH, Painesville, Solon, OH, and Streetsboro, tested and inspected each year, according to The National Fire Protection Association. Fire door testing should always be conducted by Certified Rolling Fire Door Technicians. At J & L Door Service, our technicians are Certified Rolling Steel Door Technicians by IDEA and we can perform the proper inspections and testing of all the fire doors at your business, protecting it from becoming a statistic like the 100,000 non-residential fires in the United States, each year. That means billions of dollars lost to fires, at businesses every single year. After each yearly inspection, we will put together a testing report, which you can provide to your insurance provider.
Fire Doors to Protect Life and Property
Fire Doors will protect your employees and the contents of your building from fire, wherever they are installed. We believe in providing high-quality fire doors, along with top-quality service to take care of our customers. If you have an emergency and need J & L Door Service during business hours or after, just give us a call. Every phone call is answered by a live person. After hours, we have an answering service who will notify us of all emergencies in Chesterland, Cleveland, Mentor, OH, Painesville, Solon, OH, Streetsboro, and throughout Northeast Ohio, so you will never get voicemail. From choosing the right fire door for your business to yearly inspections and maintenance, the staff at J & L Door Service is at your service, day or night. For more information on fire doors, reach out to J & L Door Service at 440-729-4261.