Redundancy is a positive feature when life safety is involved.
The automotive industry did not eliminate seat belts with the advent of the air bag. Most consumers did not stop wearing seat belts when air bags became standard equipment. Why should fire-protection life-safety issues be any different?
Active and passive systems provide different protection in fires. Active systems (sprinklers or foam) suppress fire, but they have some negatives. Testing can be difficult. A fire can damage the sprinkler system when a roof collapses or a floor gives way. Containing fire and smoke is difficult as well.
Passive systems (fire doors) offer several positives. A fire door can contain fire and smoke in a specific area, creating havens of safety. It can establish and protect a means of safe escape. Rolling fire doors are easy to test and reset. When properly installed and maintained, a rolling fire door can stop the spread of fire from one area of the building to another.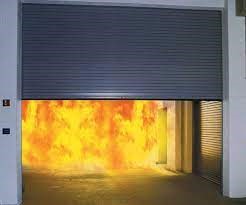 It does not matter where in the world your business is, fires can happen anywhere and at any time. Whether started internally or externally, fires can be detrimental to your business and process, bringing productivity to a halt.
Is your business safeguarded from fires? Will your fire doors drop in the event of a fire?
There is no one bullet-proof way to keep your business protected from fire and smoke damage but starting with commercial fire doors that are properly tested and maintained is a definite start.
Fire doors are a tested technology that are available in a wide range of styles. Operated by a chain, motor, or hoist, fire doors are meant to keep fire and smoke contained so your business can mitigate fire risks.
Properly functioning fire doors are a vital part of your fire protection system.
Inspect and test a least annually – The National Fire Protection Association (NFPA) requires inspecting and testing at least once per year.
Can anyone inspect and test a fire door – NFPA requires inspection and testing by a trained/certified fire door technician.
Who is going to check to see if I have tested my fire doors? – Local code officials, fire marshals/inspectors, and your insurance carrier may require written proof of the inspection and test.
At J&L Door Service, Inc. we offer state-of-the-art fire doors and fire door testing in Cleveland, Mentor, OH, Solon, OH, Painesville, Streetsboro, Chesterland, and the surrounding areas. With expertise offering innovative commercial doors dating back to 1978, we have over four decades of experience serving local businesses with the most practical and advanced safety solutions.
In addition to offering innovative fire door solutions, we are dedicated to providing you with the unmatched customer service you deserve. When you choose J&L Door Service, Inc. you are more than a client, you're a part of the J&L family! Get in touch with us today to learn more about fire doors in Cleveland, Mentor, OH, Solon, OH, Painesville, Streetsboro, Chesterland, and the surrounding areas.