Whether you believe it or not, your commercial overhead doors are one of the most important technologies in your warehouse. Not only do your doors keep your merchandise protected, keep your work processes flowing and aid in the overall safety of your workplace.
As such an important technology, commercial overhead doors need to receive regular maintenance to ensure optimal safety and function. If you like walking on the wild side, you may be tempted to skip commercial overhead door maintenance–we strongly advise against that!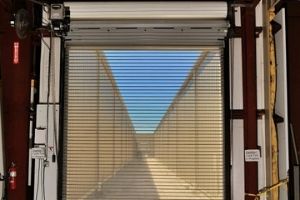 Here is what can happen when you skip out on commercial overhead door maintenance:
Poor Spring Tension – Springs can lose tension over time. This can cause the door to drift into the opening or put undue stress on the operating mechanism. Properly tensioned springs are vital to a door's safe operation.
Unsafe Operating Doors – Neglecting regular commercial door maintenance can be a safety hazard. Over time regular wear and tear can put strain on cables, rollers, and hinges, which may cause your overhead doors to not open and close safely.
Expensive Repairs – When you procrastinate on commercial overhead door repairs you are setting yourself up for costly future repairs. Eventually parts will break, and you will be left with the bill. Just like performing routine maintenance on your car to avoid more costly repairs in the future.
Looking to install a commercial overhead door?
At J&L Door Service, Inc. we provide quality commercial overhead doors to Chesterland, Solon, OH, Painesville, Cleveland, Streetsboro, Mentor, OH, and the surrounding areas. With over four decades of experience and a passion for offering unparalleled customer service, we are the number one choice for commercial overhead doors and door services in the community.
Looking for a customized commercial overhead door? We can do that too! Our commercial doors can be customized to fit the safety needs and aesthetic of your business. From stainless steel finishes, powder coated colors, 24-gauge options, and more, we help you get exactly what you want from your commercial overhead doors. Contact us today to learn more about commercial overhead doors in Chesterland, Solon, OH, Painesville, Cleveland, Streetsboro, Mentor, OH, and the surrounding areas.