With an ever-changing climate and the impact of global warming, we have a responsibility not only as business owners, but as humans, to protect our environment. So how do we do this? Taking care of the environment means reducing our carbon footprint, which you can do by conserving energy.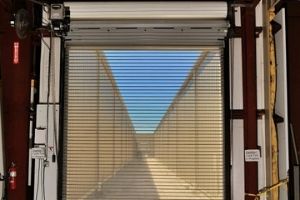 Did you know that you can conserve energy and save money by installing overhead doors? Overhead doors are an energy efficient solution for businesses, and here is why:
Insulation – Overhead doors are highly insulated, meaning they keep the extreme weather conditions out, which ultimately saves you money and is great for the environment.
Longevity – Commercial overhead doors are an extremely durable door option that do not need to be replaced frequently. The more durable the door, the more eco-friendly.
Materials – Steel is a recyclable material. If there comes a time when your overhead door needs to be replaced, you can have peace of mind, knowing that the materials will be recycled.
At J&L Door Service, Inc. we offer a selection of overhead doors in Painesville, Cleveland, Solon, OH, Mentor, OH, Streetsboro, Chesterland, and the surrounding areas. Understanding that your overhead door needs may differ from other companies in the area, we work with you to find the right overhead doors that not only match your budget, but match your company or building's unique requirements.
From sectional overhead doors, also referred to as up and over doors, to single overhead doors for industrial use and everything in between, we provide you with the door technologies needed to keep your business running efficiently.
With over 40 years of experience providing commercial doors, we are the preferred choice for overhead doors in Cleveland, Mentor, OH, Chesterland, and the surrounding areas. Having an overhead door emergency? Give us a call day or night and we will be there for you! Contact us today to learn more about our overhead doors and emergency services!