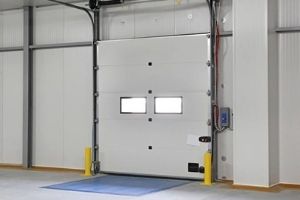 The harsh winter in Northeast Ohio is finally over and warmer temperatures are right around the corner. Did your overhead doors perform throughout the winter months? Typically, overhead doors in Cleveland, Chardon, Solon, and Chesterland get more usage in winter months as companies want to keep the cold out and the heat in. Now may be the perfect time for a Planned Maintenance Inspection for your overhead doors. The J & L Door Planned Maintenance Inspection includes the following:
Inspection – All parts, fasteners, welds, and operation of the doors are carefully inspected and evaluated.
Cleaning – A thorough cleaning of all moving parts to remove debris is performed on the doors to ensure proper operation.
Adjustment – Doors are very large moving objects and over time adjustments and alignment of belts, chains, gears, and sprockets are needed to ensure your door will operate efficiently and without issue.
Lubrication – All moving parts and assemblies receive the necessary lubrication according to the manufacturer's guidelines and requirements.
Final Inspection and Evaluation – A final operational inspection is performed by our certified technicians. A report of their findings and recommended parts is provided along with an estimate for any needed repairs.
A properly administered planned maintenance program can help extend the life of your doors and help to reduce costly unexpected repairs.
Contact J & L Door Service, Inc. for information on our Planned Maintenance Program for your doors in Cleveland, Mentor, Willoughby, Streetsboro, and Painesville.