Commercial sectional overhead doors are important to businesses and buildings. They come in custom widths, up to 40 feet. Some sectional doors can also be insulated to maintain the interior environment at a steady temperature. Businesses in Mentor, Cleveland, Solon, Streetsboro, and the surrounding areas can add windows to sectional doors, offering natural light. There are many options when you decide to put in sectional overhead doors, and the staff at J & L Door Service is available to answer all your questions.
Design Services for Sectional Overhead Doors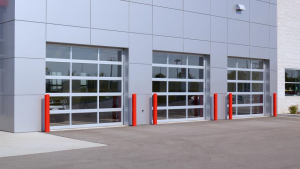 When you need to install sectional overhead doors in your business or building, our staff will provide design services to make sure you install the correct door in the opening. We take into consideration the amount of traffic that passes through the opening as well as the area's environmental conditions. This is done to ensure the proper sectional overhead door is placed in the opening. By ensuring the right door is placed, businesses will see lower energy costs and reduced costs due to downtime. When choosing a sectional overhead door for your business, you can also decide to have a clear sectional door. This type of door is mostly used for bars and restaurants, allowing natural light into the business.
Maintenance Programs for Sectional Overhead Doors
At J & L Door Service, we believe in providing sectional overhead doors that will last for your business, a long time. We offer a 6-point preventative maintenance program. This program includes a report of issues that are discovered during inspection, along with a categorization of issues that will affect the operation of the door. If Items are found in need of repair, we will provide an estimate, for you to review. Each door is cataloged, so a list of parts can be determined, and if the door needs to be fixed, we will know which parts to bring with us. We will always work with your schedule, as to not disrupt your business. Priority Service Status is attained by investing in the Preventative Maintenance Program. Malfunctioning sectional overhead doors will no longer be an issue, because our highly-trained technicians will come out and offer Priority Service, and get your doors running smoothly. For more information on sectional overhead doors in Cleveland, Streetsboro, Painesville, Mentor, Solon Chesterland, OH, and throughout Northeast Ohio. Visit www.jldoor.com or call 440-729-4261.