Routine inspections of equipment can many times identify an issue before it becomes a significant issue that could negatively impact production, customer service, and profitability. The rolling doors in your facility are no different. A periodic inspection of your rolling doors can identify minor issues and prevent more costly issues in the future.
A facility manager or maintenance personnel should be able to perform a routine inspection of the rolling doors in a facility. The routine inspection of the door components should include the following: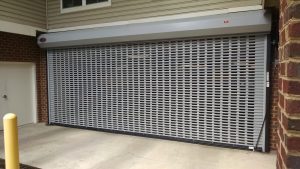 HOOD: All rolling doors should have a hood. The hood is meant to act as a cover over the spring barrel mechanism and gives the door a finished look. The hood also performs as the structural member between the doors head brackets. The hood stabilizes the brackets and prevents them from moving during the operation of the door. In addition, check for damage to the hood such as creases and dents. Creases and or dents could cause binding between the hood and door curtain and the door is going up or down.
DOOR CURTAIN: The door curtain is the part of the door that travels up and down within the guides. The door curtain should be inspected for damaged or missing slats and damaged or missing end locks. There should be no gaps between the slats of the curtain. The door curtain should hang straight down and not bunch-up at the bottom of the door. In addition to the slats, the bottom bar is the leading edge of the door curtain. The bottom bar should be straight with no bends and travel freely with the curtain.
GUIDE ASSEMBLY: The guide assembly consists of angles or channels that the door travels within. If the angles or channel get bent, pinched or damaged in a way that prevents the door from traveling freely up and down, significant damage to the door curtain and spring barrel could occur. In addition to inspecting the guide angles or channels, the attachment points where the guides are fastened to the wall should be checked for loose fasteners or broken welds.
SAFETY FEATURES: There could be the following safety features installed on your motorized rolling door:
Constant Pressure Control Station
Photo-electric Sensing Devices
Bottom Bar Sensing Edge
These safety features should be routinely inspected to ensure the safety features function properly.
If during your routine inspection, you discover any issues, we advise contacting a company that can provide you with Certified Technicians to correct any issues discovered. Rolling doors can be large pieces of heavy equipment with tensioned spring barrel assemblies. The tensioning and releasing of tension on a rolling door can be dangerous and should be performed by a Certified Technician.