Overhead doors serve a crucial role in many industrial and commercial establishments, offering not just protection but also a seamless gateway for efficient operations. The significance of overhead doors cannot be overstated, as they safeguard valuable assets, ensure safety, and maintain the integrity of a commercial space.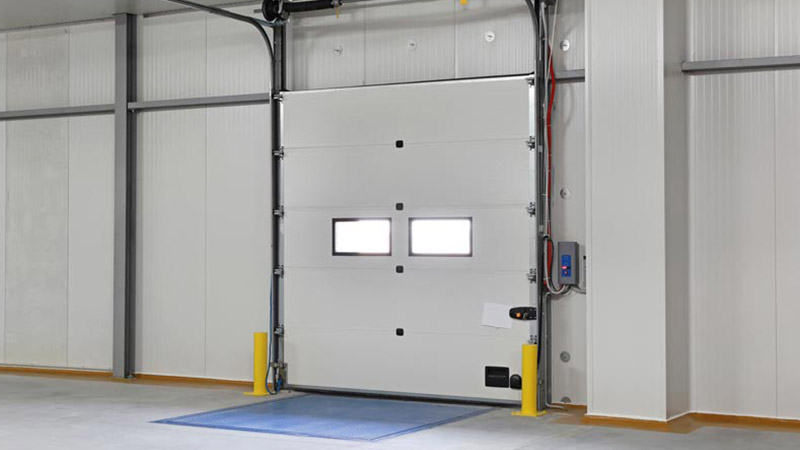 Among the various types of overhead doors, sectional overhead doors are a common choice, and they possess unique features that set them apart from other commercial doors for your business? Keep reading to find out!
Design & Operation – Sectional overhead doors consist of multiple horizontal panels that are hinged together, allowing them to be raised and lowered along a vertical track. This design allows for more flexible and space-saving operations, making them a perfect choice for industrial areas with limited space.
Energy Efficiency – If you are looking to save money, then these overhead doors are the right choice for your business1 Sectional overhead doors offer optimal insulation due to their multiple-panel design. This enhanced insulation capability helps maintain the internal temperature of your facility, resulting in energy cost savings.
Repairs & Maintenance – When it comes to maintenance, sectional overhead doors offer the advantage of easy panel replacement. If something occurs and a section is damaged, it can be repaired or replaced without affecting the entire door's functionality.
Customization Options – Sectional overhead doors come in a variety of materials, styles, and designs. This flexibility allows for more customization options to meet specific aesthetic and functional requirements.
At J&L Door Service, Inc., we are proud to offer sectional overhead doors to Painesville, Cleveland, Solon, OH, Mentor, OH, Streetsboro, Chesterland, and throughout Northeast Ohio. We offer professional installation and maintenance programs to ensure the optimal performance of your sectional overhead doors.
Whether you need a new door or assistance in maintaining your existing one, we are here to provide expert service and support! Contact us today to learn more about sectional overhead doors for your industrial property in the area.