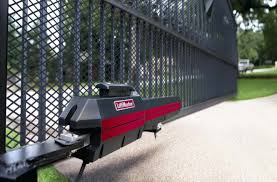 If you have a fence around your commercial or residential property, we know you are serious about security. But how high-tech is your gate? Do you use a chain and lock to secure it? When you're ready to upgrade your gate's security and effectiveness, call J & L Door Service. You could have the convenience of opening your gate from your car or home. Think about it, what's easier – pressing a button in your car or punching a code in an access control panel, or, getting out in all kinds of weather to unlock the gate, driving through, and then closing and relocking it? Where is a bigger chance of error, such as someone who doesn't lock the gate behind them or not using the lock and chain consistently? Give yourself constant security, effectiveness, and comfort by installing robust and reliable gate operators.
There are multiple ways to install gate operators to maximize available space. So even there is some nuance or unique space restrictions, at J & L Door Service, we're experts at making gate operators work in most areas.
Are gate operators simple enough to install yourself? Gate openers require many different moving components, power requirements, and precision to work correctly. Too much pull, weight, or tension in the wrong area, and you could be looking at heavy repair bills and replacement parts.
Gate operators provide you with first and foremost, added security for piece of mind, convenience, and the ability to control access to and from your property. So when you're ready for a new gate opener in Cleveland, Streetsboro, Painesville, Solon, Mentor, or Chesterland, give us a call. We'll work around the different challenges to install the gate opener that works for you.