Commercial garage doors go through a lot of tough handling. Believe us, we've seen it all throughout Cleveland, Mentor, OH, Painesville, Streetsboro, Solon, OH, Chesterland and surrounding areas.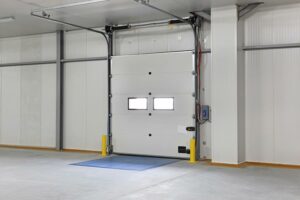 Think of all the opening and closing, the run-ins, environmental conditions, and more. And while you think your current commercial garage door may still have some life in it, we can tell you that a new garage door is almost always worth the investment. All the opening and closing can affect the efficiency of your door. Commercial garage doors can be surprisingly important when it comes to controlling business costs. Think of the air leaks through cracked doors, the possible injuries from opening stuck or misaligned doors, the temperature loss through doors not designed for energy efficiency, or the lost productivity when the door is inoperable in a critical opening.
Commercial garage doors may be the first thing visitors see when they come to your building. On the other hand, maybe opening the commercial garage door is the first thing your workers do in the morning. Either way, it's the first introduction to the impression of how your company takes care of your building and operations. So what does a rough or struggling opening garage door say about your business?
When looking for commercial garage doors to revamp your building, have the confidence that it's an excellent investment and one that you'll very likely recoup your costs. We'll be happy to help you find the right commercial garage door you need throughout the Cleveland area, including Mentor, OH, Painesville, Streetsboro, Solon, OH, Chesterland, and surrounding areas.