Overhead doors are essential pieces of hardware in a home. This door gives you quick and easy access to your garage and allows you to store large tools or cars with ease.
If you have an overhead door, you must keep up with regular maintenance to stay in top condition. We have gathered some tips for maintaining your garage door that will keep you from having to make expensive repairs or replacements.
Suppose you live in Streetsboro, Mentor, Cleveland, Painesville, Solon, Chesterland, and surrounding areas throughout Northeast Ohio and need to replace or repair your garage door. In that case, you can count on J & L Door Service, Inc.
Tips for Maintaining Your Overhead Doors
If you have an overhead door, be sure to practice these maintenance tips regularly to keep your hardware in top shape.
Check for Unusual Sounds or Broken Pieces
You should always be looking for broken pieces or unusual sounds that might indicate damaged parts. When operating your overhead door, pay close attention to the mechanisms and sounds. If you see something unusual or hear a grinding noise, there could be something wrong.
Make Sure All Parts Are Securely in Place
With constant opening and closing, the hardware on the door can loosen over time. Regularly check these components and tighten the bolts and other hardware to prevent further damages.
Lubricate All Moving Parts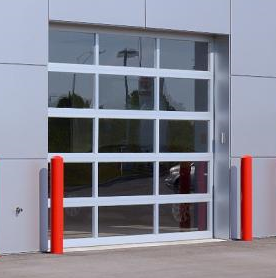 Lubricating the parts on overhead doors is a great way to keep them operating smoothly and with little noise. Keep up with this regularly to keep your overhead door in top condition.
Check the Door's Balance
Overhead doors work by utilizing the balance of the components. If your garage door is imbalanced, the hardware and mechanics will have to work harder to open and close the door. This effort can wear out the mechanical components sooner than necessary.
Test your door's balance by pulling the release handle and manually opening the door instead of using your automatic garage door opener. If the door continues to move after you stop lifting it, the door could be imbalanced. If this happens, you can call J & L Door Service, Inc. for repair services.
The torsion springs are the main component in the balancing of your door. The torsion springs are under extreme tension. DO NOT ATTEMPT TO LOOSEN OR ADJUST THE TORSION SPRINGS, CALL A DOOR PROFESSIONAL.
Check the doors safety feature. The proto-electric eyes should be mounted 6" to 12" above the floor. If you have a high-profile vehicle, a second set at 24" should be in place. Dirt, leaves, cob webs, spider webs, and other debris can prevent your safety devices from working properly. Teat your safety device to endure it will stop and reverse your door if something is in the opening of the garage door.
Clean All Components
The best way to maintain your overhead door is to clean all parts. This cleaning should include the front raised panel and all mechanical components on the inside. Properly cleaning these parts can prevent rust and allows you to inspect all elements of the door.
We have been providing door services in Streetsboro, Mentor, Cleveland, Painesville, Solon, Chesterland, and surrounding areas throughout Northeast Ohio since 1978.
If you need overhead garage door service, call J & L Door Service, Inc. today at (440) 729-4261. Our customer service team is ready to help you schedule your repair.