When picking a new garage door for your business in Cleveland, Solon, Mentor, Chesterland, Painesville, Streetsboro, OH, and throughout Northeast Ohio, there are different door designs you can choose.
Though many people might go with the traditional sectional garage door, opting for a rolling or coiling door will offer you several unique benefits. In this article, we will share with you some of these unique advantages.
What Is a Rolling / Coiling Door?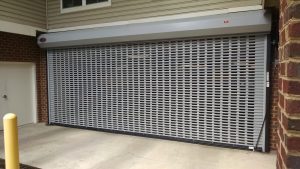 Rolling doors or coiling doors consist of the following components:
The curtain is fabricated from interlocking metal slats and travel up and down as the door opens and closes.
The bottom bar is the leading edge of the door curtain.
The spring barrel assembly houses the spring balance mechanism and is the component that the door curtain wraps around as the door opens and unwraps from when closing.
The guides are the door track that retains the curtain when the door is traveling.
The bracket plates support th spring barrel assembly.
Chain hoist mechanisms, crank mechanisms and motor operators are means in which to operate the door.
Benefits of Rolling/Coiling Doors
The following are some of the top advantages you could enjoy by installing roll-up garage doors.
1.      Durability
Rolling/coiling doors are constructed of heavier gauge steel or aluminum. They are designed for heavy duty commercial/industrial environments. The componets are designed for years of service with minimal maintenance.
2.      Security
Rolling/coiling garage doors provide maximum security and safety. They are less susceptible to break-ins and vandalism. Knowing your enterprise is secure offers you much-needed peace of mind.
3.      Lower Cost To Maintain
Because of the heavier gauge metal used to fabricate rolling/coiling doors, the components are more durable and will last longer with routine maintenance. In addition, there are no hinges, rollers, cables, or other moving parts that require repair or replacement over time. Also, all maintenance performed on the door is within an area close to the door operating mechanism. There are no tracks going up the wall above the opening or torsion spring assemblies located several feet above the opening, which makes maintenance safer and more cost efective.
Quality Commercial Rolling/Coiling Doors
The key to enjoying these and more advantages is turning to a reputable installation company in Northeast Ohio. When looking for such a company, turn to J & L Door Service, Inc.
We have been providing Cleveland, Solon, Mentor, Chesterland, Streetsboro, Painesville, OH, and throughout Northeast Ohio with commercial and industrial doors since 1978. Our goal is to offer you quality installations, superior products, and customer service to meet your needs and exceed your expectations.
Call J & L Door Service, Inc. at (440) 729-4261 for the quality rolling/coiling doors for your business needs.